HWI design and supply customised heating and cooling solutions for modern low energy buildings.
Suitable for both retrofit and new builds, HWI have a range of heat distribution products that we match to your individual comfort and energy saving requirements.
Our systems are tailored to your unique building, including its design, construction, orientation and room usage.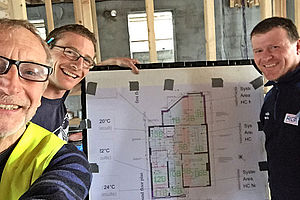 Latest News Article

Wanted: a heating system for the future
When plumbing and heating contractor James Brereton decided to totally renovate their new home they chose Variotherm throughout."In our own house we naturally wanted the most advanced system on the market and coupled with the growing realization that we need to act on climate change we chose an air to water heat pump to power the Variotherm heat distribution system".
Read about the project here.
7 reasons to choose HWI Sustainable Buildings

Super-flexible systems for dry construction
Surface heating/cooling of floors, walls and ceilings
Perfectly combined components all from one source
Low energy costs thanks to efficient low-temperature systems
Eco-friendly materials and optimized designs
Cosy and healthy climate thanks to a comfortable radiant heat
10 year guarantee
About Peter Sullivan

Founder and owner of HWI
Exclusive Business partner with variotherm in Ireland since 2001
Involved in low-energy building and construction since 1998
Responsible for variotherm's UK business development.